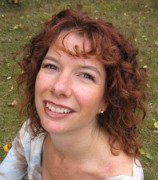 This is the everything-you-need-to-know-to-be-as-healthy-as-possible newsletter, brought to you by Kristy Russ, pharmacist and health consultant. I have close to 20 years experience in helping people improve their health.
I help people get healthy, and more importantly, stay that way so they're not miserable and just slowly dying for the last 20 years of their lives, which IS the "norm" today.
For even more information go to www.antioxidants-make-you-healthy.com


Hi,
Wow! I can't believe summer is already over. Some of you in warmer climates may not know what I'm talking about, but for a sun-lover living in Canada, trust me- it's over. The cooler temperatures started a few weeks ago already. Although I'm grateful we had such a fabulously warm summer for a change, it's still kinda depressing to know it's going to be another 8 months before we see those temperatures again.
September also seems to be a time when people are looking to make some necessary changes in their lives. Only January beats it for motivation. Maybe it's because kids are going back to school and things get back into a routine? I don't know what it is, but this year I decided that I would offer my assistance to my newsletter subscribers.
Take a moment to honestly ask yourself this question and see if the article resonates with you…

How Much Better
Would Your Life Be
If You Were In Excellent Health?


You used to enjoy life.

Remember how you used to do whatever you wanted without even thinking about it? But now you find that you're missing out on a lot the fun things in life because your body just can't handle it anymore. Maybe it's because you're in too much pain. Maybe you've put on some extra weight that's getting in the way. Or maybe you're just too exhausted to even consider it.

The frustrating part is that you've tried lots of things already and you're "doing all the right things" but it's still not getting any better. What's even more frustrating is that "the right things" keep changing or are even conflicting, so now you don't even know what you're supposed to do anymore.

All you want is to just feel better so you can get back to enjoying life. And you're afraid it's not going to happen. You're thinking maybe you've just reached "that age" and this is what the rest of your life is going to be.


How am I able to take your thoughts and put them right here in black and white? Because I was in the same situation and thinking the same things.

I'm pleased to tell you to go ahead and stop that thinking.

There is a way out.

Mythbuster: Don't let anyone tell you that it's all part of getting older. Let's just stop that ridiculous excuse right now. It's completely possible (and actually normal) to feel great, have plenty of energy and be pain-free and active right through to the end of your natural life. There is absolutely no need to suffer or give up anything you love doing.


I refused to accept where my health was heading and I used my pharmacy background to uncover the true principles of excellent health, based on how your body functions and what it needs. When I applied these principles, the change in my health was shocking.

Using these same principles, over the last 7 years I have helped people just like you to eliminate joint pain, lose weight (and more importantly keep it off), go from exhaustion to energized and more. Their transformations have been truly life-changing and it's been a privilege to be a part of that.

Good news: The first step to getting your life back is easier than you think.

I am offering a limited number of my newsletter subscribers a complimentary Get Your Life Back strategy session (valued at $150) that will get you back on the path to better health.

During this one-on-one session with me, I'll work with you to:
Create a clear vision for the ideal life of health you want and deserve
Discover the underlying issues that are preventing you from having the slim, sexy, pain-free and healthy body that you need to have that life
Leave this session feeling renewed, inspired and ready to finally fix your health problems and get your life back once and for all
All you have to do is click here to book your Get Your Life Back strategy session now. If it doesn't work for some reason, just reply to this e-mail and put 'I'd like to book my strategy session' in the subject line.
As you can imagine, an in-depth session like this is rather time-consuming. Therefore I need to limit it to the first 15 people that book their appointments. So don't wait or you'll totally miss out. I'd love to be able to help everyone, but there are only so many hours in the day...
Sure you can continue trying to find the "magic" solution on your own (hint: it's several things together). Or you can take the first step to life-long health and book your session now.
I look forward to being a part of your own life-changing transformation once you apply what you discover!


Good Health to You,
Kristy Russ, BScPharm
Pharmacist/Health Coach


P.S. Don't wait! Book your Get Your Life Back strategy session now. Only the first 15 people will be able to take advantage of this gift. There's just not enough time in the day to help everyone. Sigh...
---
Another Grateful Customer...
""Kristy, I am so happy to tell you how great I feel. Please share my story so others might also be helped.

I had a hip replacement several years ago

because of damage from many years of sports injuries. After the surgery, about 4 times a year, I would get severe cellulitis around the new joint- cellulitis is a very painful and quick-spreading infection that would debilitate me for a few days until the antibiotics kicked in. After applying the strategies you recommended, I have only gotten 2 cases of cellulitis (over a 7 year period). Both times were during periods of high stress in my life, so I'm sure that's why. I'm happy to say it wasn't nearly as bad and didn't last as long as it used to though.

Here's the really amazing part: my other hip also needed replacement, but the surgeon wanted me to fully recover from the first surgery and also wanted to wait until it was absolutely necessary. I had been following your advice for about a year by the time I went back for my followup appointment and it was discovered that I no longer needed the replacement. My joint was actually rebuilding itself! My surgeon was absolutely flabbergasted- he had never seen that before and he sent me to several other specialists to see how that could have possibly happened. The only explanation they could come up with was the changes I had made.

Your coaching also helped me lose over 60 lbs and I've easily kept it off over these last 7 years. Who knew that just fixing my other problems would also fix my weight problem?

I feel better than I have in at least 20 years and I owe it all to you. I can't thank you enough for helping me get my life back. "
Gary M.
---
Because Laughter Really IS Good Medicine...
Actual Notes Taken From Medical Charts
1. Patient has two teenage children, but no other abnormalities.
2. Patient has chest pain if she lies on her left side for over a year.
3. On the second day, the knee was better, and then on the third day it disappeared.
4. The patient is tearful and crying constantly. She also appears to be depressed.
5. The patient has been depressed since she began seeing me in 1993.
6. Discharge status: Alive, but without my permission.
7. Healthy-appearing decrepit 69-year old male, mentally alert but forgetful.
8. The patient refused autopsy.
9. The patient has no previous history of suicides.
10. Patient has left white blood cells at another hospital.
11. Patient's medical history has been remarkably insignificant with only a 40-pound weight gain in the last three days.
12. Patient had waffles for breakfast and anorexia for lunch.
13. Between you and me, we ought to be able to get this lady pregnant.
---