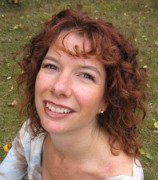 This is the everything-you-need-to-know-to-be-as-healthy-as-possible newsletter, brought to you by Kristy Russ, pharmacist and health consultant. I have close to 20 years experience in helping people improve their health. I specialize in nutritional medicine, which is the secret of "true" preventative medicine. Yes, if I'm successful in getting people to follow my advice, I will put myself out of a job.
For even more information go to www.antioxidants-make-you-healthy.com

If you like this e-zine, do a friend a favor and pass it along.
If a friend DID forward this to you and if you like what you read, please subscribe.



Welcome to fall everyone!
Well, I think I'm starting to accept the fact that summer vacation is over. One of the good things is that everything is getting back to normal, including my healthy habits. Like I've mentioned before, we do a lot of camping and spending time outside enjoying the weather. That means that most of the summer is spent NOT doing my regular exercise activities and eating camping-type fare like hot dogs, hamburgers, chips & beer. So by the end of the summer, I've often added a couple of extra pounds and am feeling kinda sluggish. I actually look forward to getting back to the exercise and healthy eating. I've had a couple of weeks back on the basketball court and it feels great!
If you're like me and are motivated to use this back-to-school transition to finally drop those pounds you've been meaning to lose and to start making a few simple changes so you can have incredible energy and be as healthy and happy as you've ever been... well,it's a good thing you opened this e-mail. This e-zine has your name written all over it.
It's a bit of a deviation from my regular e-zine format so you can focus purely on the information you need. Read, learn and enjoy...

How To Make A Few
SIMPLE Changes In Your Lifestyle
To Lose Weight PERMANENTLY
And Have More Energy
Than You Ever Thought Possible
Disappointment... You start a weight loss program full of promise and excitement, but it ALWAYS ultimately fails. You don't acheive the promised results.

Hopelessness... Or worse, you lose a few pounds just to gain it all back (plus more) later.

Frustration... You've been struggling to get rid of those last 10-20 pounds, never mind the fact that you're practically living at the gym and surviving on nothing but carrot sticks.

Guilt... You have zero willpower. You tell yourself you're not going to eat something, then you say "OK, I'll only have one"... and then eat the whole box. Then you feel guilty about it and/or end up 'giving up' because you just can't control yourself.

Exhaustion... You struggle to get out of bed in the morning and don't even feel like yourself until you've had at least 1 cup of coffee.

...And how about that 3:00 energy crash, when you wish you lived in a country that has siestas? And you have zero energy to go and do something fun after work.

Does any of this sound familiar?

That Was My Life Up Until A Few Years Ago...

It crept up on me... 10 years after the birth of my children, I found myself carrying an extra 30 pounds. How does a couple of pounds a year end up at 30 pounds?!?

Getting out of bed in the morning was a chore (I admit, I've never been a morning person, but sheesh!). My energy crashed by mid afternoon and I was craving 'junk' from that point right up to bedtime.

The thing is, I had always been active and ate healthy for the most part, so I was perplexed as to how this 30 pounds could have attached themselves in the first place?

What I knew is that it would just keep 'creeping on' if I didn't do something different.

I knew that all the weight loss programs out there were useless and wouldn't help me lose the weight AND keep it off. I only wanted to do this once. Being the scientist I am, I had already researched what needed to be done. The theory made biological sense- what I needed to do was combine everything at the same time and THAT'S when the magic happened!

Without even feeling like I was trying, the weight dropped off, I had no more cravings and I have LOTS of energy now.

Two years later, the weight is still gone and I still feel incredible.

So how did I do it?

Click here to read the rest...


Don't put it off- you know you'll forget...



Good Health to You,

Kristy Russ, BScPharm
Pharmacist and Health Consultant



P.S. Don't wait! Just imagine, by Christmas you could be enjoying a completely new life. You'll fit into that little cocktail dress AND actually have the energy to enjoy the season like it should be...